When we decide to move our house then there are lots of different things you should carry and also when you pack those things then how you can load on the truck if you do not have much heavy weight things then you can easily lift and load but if you have heavy furniture then you might be thinking and trouble during this task. So, today's topic is How do you load furniture in a moving truck?
Here you find all the information that which are the different techniques you should follow where you can easily shift your heavy furniture because heavy furniture has acute edges and might be during loading in the truck you will be injured and it will lead to the serious injuries which we don't want. Be careful when you lift the furniture don't direct life and bent first take small change and if you are comfortable then go ahead and lift. 
How do you load furniture in a moving truck?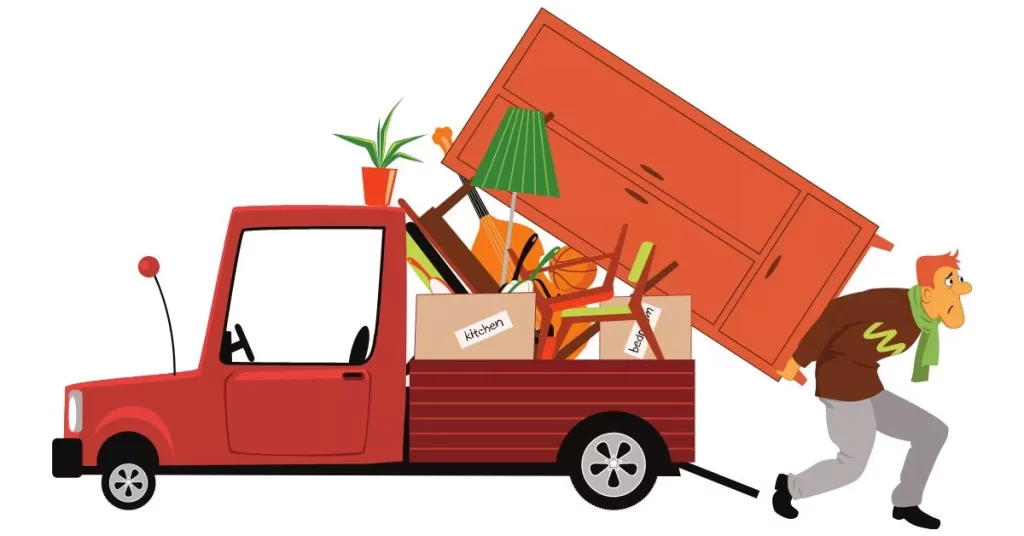 First, we make one list where you find all the abstract ideas related to moving and loading in the truck of the heavy furniture and after completion of all the points, we go further in deep discussion. Transportation vehicles also take many parts in that and based on that you decide which things you can load in the truck and which do not.
Decide on the Transportation Vehicle.
Disassemble the small parts of furniture.
Use different tools to lift and move.
Try to load heavy-weight furniture first.
Wrap all the acute edges
If you follow all the steps or we can say method then you can easily move and load heavy furniture and the main thing in shifting home is that. Now we are going into the further details and know which things we do and which don't.
Decide the Transportation Vehicle:
First and the main thing that which vehicle you should use when you go for the deciding vehicle. It will depend upon your goods if you have a messy house then you need a big vehicle and if you have not many things then you can complete them within your budget. Also, based on that you can also find the price difference in both vehicles.
Also, remember that if you have a big and heavy weight then you need a big vehicle and if your furniture is foldable then you don't need a big transportation vehicle. Most of the companies also provide the different sizes of the cargo where you select according to your choice and based on that you provide the rent. Also, when your date is come near of moving your house then first of all nearly one week or 5 days ago make and fixed one vehicle for your work so at the end you can't trouble related to the vehicle.
Unfold the part of Furniture:
In today's time, most of the furniture is foldable where you can divide your furniture into different parts and it is very effective for you as well as also very useful in packing. So, you can also imagine that that furniture that you load without any foldable parts then it will take up much space in the vehicle but if you divide it into the small parts then it will be very useful.
There are several advantages of doing that first one is to decrease the weight of the furniture because lifting small parts of furniture is better than lifting the whole furniture at a time. And lifting all the furniture at a time is not a good idea because sometimes it will lead to a spin problem also. So, be very careful if you don't comfortable then please leave it. So, divide your furniture into small parts and those things are the bed, kitchen furniture and etc. Not only furniture you can also do it same those all things are which you make a fold and easily convert from heavyweight to light weight.
Use Different Tool for Lift and Load:
As above I said that if you are not comfortable lifting furniture then leave it but if you do because without you not anyone can do then there are lots of different tools are available which will helpful for lift and moving your goods from one place to another. If you know which tools are used in which things then one tool is for moving couches and this will be very useful and save you from your injuries.
Also, when you load the couch in the truck then you might know then it will take up much space but you also use some common sense that on the couch you can also put a table and other lightweight things. But before that, you pack or wrap the couch or else put one blanket on that and after a move for the further process so it can't damage your couch even if your goods have an acute edge as well as corner. And this small gesture will save you lots of cost and time.
Wrap all the Edges:
This point you must follow because when you have heavy furniture, it might be fragile or glass parts with edges and corners. Whenever you lift them than might be chances of injuries from that edge or corner and your task is probable to stop there. So, make sure that whenever you decide to move your house then you wrap all the edges and corners with soft material.
One thing is if you don't do all the above points and you don't have much problem with money then the best solution to this topic is select one company who provides this type of facilities and after that, they will come with all the required tools and technologies which will help to complete your task as well as they also come with their trained task and transportation vehicle based on your need. First, try to find the best company and after that go with the further process.
Also, during this process, you should also be aware of the different tips which will help to increase your work. Don't be rush every time ad every day select best day for the moving of your house and try to do all the task without any problem. In transportation vehicle, we should remember that all the space are used in a very utilized manner. In minimum space, you arrange the maximum things.
So, that's all about the How do you load furniture in a moving truck? I hope you understand all the things which I want to clarify for you. Let's revise again where to start and where to end. First, estimate your things and based on that decide the transportation vehicle after that wrap all the furniture as well as if possible then divide it into the foldable parts. In the end at the arranged time be very careful because for someone else you can't harm your other things. Make your transportation vehicle proper moving condition and be aware when move vehicle your goods will not damage with other things.
Try to Load Heavy Furniture First:
This is the best point when you load the things or move your home. If you load heavy furniture first then after that you just have not many heavy weighted things which you can easily move and load in the truck. But for that, you take the help from your friends, and relatives because if you did alone all the tasks then it will take much time as well as different problems occurred during this task.
Also, if you can fold your furniture then you can easily move and load it without any help. And also, if you have done this task first then after that you get the assumption that how you take all the items and set all the things in one vehicle. Let me give some examples that which things you can include in heavyweight like beds, refrigerators, Couches, and tables with expensive parts. Make sure that you wrap all the edges which you think will be harmful to you.
When you set up all those heavy things then remember one thing you arranged all the items properly because during moving the truck so not one item will be damaged and you get lost from that item.
Also Read:
Conclusion
Moving a house with heavy furniture is not an easy task there are lot of planning you will do and once panning is complete you should apply and be careful with other things also like wrapping the edge and cornier and utilize all the space in the vehicle so your things will arrange in one vehicle. If you have any suggestions in this, how do you load furniture in a moving truck? Then you can suggest me if your responses are applicable and suitable for this post then I will add in this post. I am waiting for your response till that read about How do you load furniture in a moving truck? We will meet again with nee topic.