Hey, are you going to move your house to a new house or a new location? If yes, then you are probably hustling to think about your competition for house shifting. Shifting house is really a tough and splitting head procedure. But there are some activities you can try to lessen your relocation hassle. We prepared an article through experience to enhance your before moving into a new house
Shifting your households on your own has always been a burdensome job. Shifting the house in the present day with yourself is not recommended. You can complete your shifting through the third-party packing and moving service to avoid hassle. During the time of moving into a new house, there are numerous things to do to optimize your relocation. You can see below those things to do before moving into a new house to avoid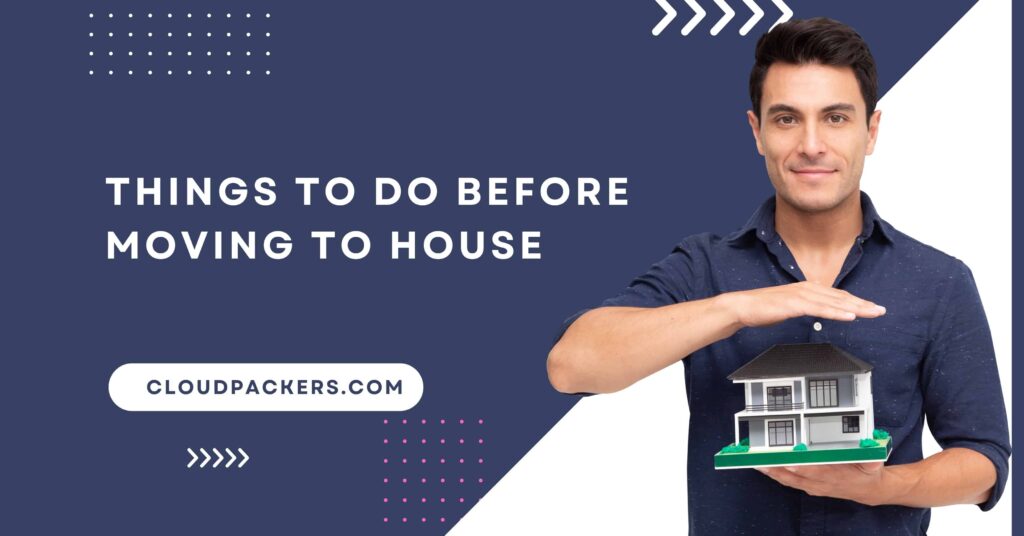 Take a Visit to your New House before movement
Before relocating to a new house or location, take at least 1 to 2 free visits. In this way, you can easily build some connections with the local people and neighbours. And you can gain dozens of information about your new house and their society. During the visit, you have to check all of your electric connections, water connections to your home and other additional things like local vegetable shops, shopping malls, banks, etc.
Prepare a Written Moving Plan
The first and most crucial thing to do before moving into a new house is to prepare a moving plan or house moving checklist with pen and paper. A written plan will help you to organize all of your moving tasks like managing your budget, your households, workforce, etc. A checklist will be like a weapon to lessen your headache during relocation.
Cancel all of your Paid Subscription
To keep yourself from extravagance, you need to cancel all of your paid subscriptions like electric connection, gas connection, water connection, milk and paper subscription etc. Before moving into a new house, you have to start cancelling your paid subscription or moving to your new location.
Get Reading of your electric meter
If you live in a rented house, you must check your electric bill before shifting. And don't forget to clear your electricity bill before relocation to avoid losses to your pocket.
Buy Packing material
Numerous items, including furniture, electronics, fragile items, etc., need extra care to prevent deterioration. Before moving to your new house, you must purchase packaging materials to pack your household to avoid any damage or scratches. You can buy different types of packing materials for packing like cargo sheets, bubble wrap, waterproof laminations, etc.
Donate Unnecessary Items
Always donate or throw some of your unnecessary households from your house. There are a bunch of goods that are not necessary for you, and even there is a higher chance your households may be broken at the time of relocation. And there might be many households that are already broken or damaged. Always try to donate or leave it behind while relocating to avoid extra expenses or worries.
Hire Suitable Vehicle for Transport
Before packing you should have to book a transport vehicle for relocation. You can hire different types of transport vehicles depending on the number of your households. Try hiring a new or well-condition vehicle to avoid damage during shifting.
Uninstall Electronics Items
Uninstall all of your electronics items from your house before your shifting or packing. Electronics items often may take so much time to uninstall like AC, water purifier, etc. If required, you can hire a technician to obtain your task. Try to uninstall all of your electric items before 3/ 4 days of your packing.
Take photos of electrical settings
Take some photos of electrical items before uninstall to keep that wire connection data. We often forget things when it comes to connecting the right wire. You can take some snaps with your mobile phone to avoid the complexity of electronic items.
Improvements or repair before moving in
You will get aware of many broken or damaged items while making a checklist and packing. Always try to repair all of your households before packing to avoid damage. Mainly, broken items will definitely damage at the time of relocation.
Inform Govt. About Your Relocation
This is a simple process just you need to inform your local post office about your relocation to change your address. But if you are shifting for a short period of time, then you can skip this step.
Clean Your Households Before Packing
We often ignore these tiny steps while shifting our households. It would be best if you gave extra care while packing your goods. There is so much dust and dirt in your households; after we wrap packing materials, that dirt will be attached to your goods. And it's a hectic process to remove those dust after it gets connected with glue in the packing materials.
Lebel Properly
After the competition of your packing, you have to give special attention to your labelling. Labeling can help you to organize your goods and it's so beneficial for loading in the truck or reassembling in your new house also.
Get Some New Locks for your New House
While buying packing materials for your new house, you should have to buy some locks for your house. And try buying those kinds of locks with multiple keys for your family members.
Check Insurance Before moving
Before moving to your new house, you need to have insurance benefits for your household. There are many third-party companies which are providing insurance for households. To achieve a stress-free and joyful relocation you have to go with the insurance benefits.
Pack Early As Possible
Start packing your households as soon as possible before your moving date to avoid any damage in haste. The suggested day is to start one week from your moving date.
Hire Professionals
The last one is outsourcing your whole moving procedure to a third-party company like packers and movers. So many packing and moving companies are dealing with households packing and moving. You can hire them for hassle-free and stress-free shifting.